André Kertész Hall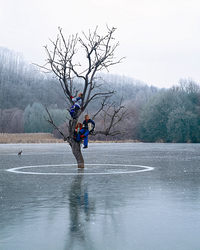 BENKŐ Imre, CSONTÓ Lajos, DEZSŐ Tamás, EPERJESI Ágnes, FÁTYOL Viola, FRANKL Aliona, GŐBÖLYÖS Luca, GYENIS Tibor, HANGAY Enikő, HEGEDŰS 2 László, HERMANN Ildi, ILLÉS Barna, KEMENESI Zsuzsanna, KLOTZ MIKLÓS MOLNÁR Zoltán, SZABICS Ágnes, SZALONTAI Ábel, SZILÁGYI Lenke, TELEK Balázs
KNOWN and UNKNOWN artists from photography collections (Danube Museum, FORTEPAN, Horus Archives, MTI)
DANUBE - OPEN BOOK
Open to the public:
February 4 to May 6 2011
on Weekdays: 14.00 - 19.00
at Weekends 11.00 - 19.00
Countries of this region are very different. If we try to find a common denominator, they all have the Danube run through them for shorter or longer stretches, mediating among peoples, regions, and countries. It conveys culture, economic goods, ways of life, good and bad, everything. All this is, in fact, contained in the poem of one genius Hungarian poet that was written in 1936 – yet, time has not transcended even one word, one article of it.
The exhibition shows the everyday routine of the Danube revealing its various faces that almost imperceptibly surround our individual faiths and events of our common history as well for centuries. Building on the river's characteristic features, not only do contemporary works and archive shots visualize the distinctive nature of particular places, but they also portray the water with its general details and, at times, they discuss the relationship between human and water in surprising context.
The 1st Floor showcases a selection by Gabriella Csizek from the works of the distinguished and successful middle and younger generation of contemporary Hungarian photo art. The pieces are reflections inspired by the Danube. Displaying these rather varied collections provides for individual approaches to be receptive of associations worthy of attention and contemplation.
Mai Manó Gallery exhibits a selection by Károly Kincses of archive shots along with lenticular images, a special technique in photography from recent photographs by László HEGEDŰS 2 and Miklós KOTZ, exposing the past and present of the Danube with its constant flow and the strength of the mass of water.
Archive shots of unknown artists are on view throughout the exhibition. The works projected are from the collections of the Danube Museum of Esztergom, FORTEPAN, MTI (Hungarian News Agency Group), as well as the images of the exhibitions organized by the National Association of Hungarian Creative Artists in the theme of the Danube. There are also series featured about the Danube from contemporary photographers.
---
In February, the Hungarian House of Photography – Mai Manó House and Indafotó are announcing a photo contest pertinent to the theme of the exhibition.
In March and April, we are organizing educational programs in collaboration with the Danube Museum of Esztergom, as well as photographers ALIONA FRANKL and LENKE SZILÁGYI.
The exhibition The Danube – an open book entails the works exhibited at the Berlaymont building in Brussels in March 2010 through the sponsorship of Hungarofest Nonprofit Ltd.
Hungarian House of Photography in Mai Manó House
H-1065 Budapest-Terézváros, Nagymező utca 20.
Telephone: 473-2666
Fax: 473-2662
E-mail: maimano@maimano.hu