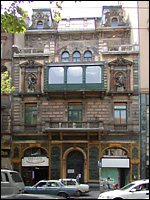 The Hungarian House of Photography' primary mission is to give space to national, international, historical and contemporary photography exhibitions.
On the mezzanine, in the Mai Manó Gallery we present works important photographers who died in the recent past, also some top quality mid-career personalities. On the first floor in the André Kertész Hall (in Mano Mai's one-time flat) we set up larger-scale exhibitions, which we usually keep open for longer periods of time. Here you can see exhibitions summarizing the significant career stages of some successful artists, the foreign touring exhibitions and the historical exhibitions from the collection of the Hungarian Photography Museum and well-known foreign collections. Behind the Daylight Studio, in the George Eastman Hall exhibition space we present smaller exhibitions. Here we present early career artists and experimental works.
The exhibitions are changed according to a widely publicised set plan, and the pictures are usually available for sale.
Fees:
Ticket type:
Admission for Adults: 500 Ft
Student entrance fee - Pensioner entrance fee: 200 Ft
Annual subscription: 10.000 Ft
'Member of Friend Circle': 2500 Ft
Discounted admission fees:
Student entrance fee reduction for FKSE (Studio of Young Artists Association) members
Documents enabling free admission:
Registered complimentary ticket, issued and signed by Hungarian House of Photography public company
Hungarian House of Photography 'Member of Friend Circle' "Regular visitor" card
Hungarian House of Photography 'Member of Friend Circle' "Bronze grade of supporter" card
Hungarian House of Photography 'Member of Friend Circle' "Silver grade of supporter" card
Hungarian House of Photography 'Member of Friend Circle' "Golden grade of supporter" card
Hungarian House of Photography 'Member of Friend Circle' "Diamond grade of supporter" card
József Pécsi Library of Photography Readers card (on the day of registration)
Association of Hungarian Journalists' Press card
Budapest card
ICOMOS card /International Council on Monuments and Sites/
Admission ticket for Thália Theatre on the day of the show between 18 and 19 pm
Students of Service and Handicraft Vocational School on Práter Street (upon student card)
Hungarian House of Photography in Mai Manó House
H-1065 Budapest-Terézváros, Nagymező utca 20.
Telephone: 473-2666
Fax: 473-2662
E-mail: maimano@maimano.hu