André Kertész Hall
George Eastman Hall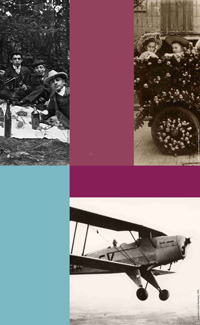 A Journey through the Photographic Treasures of Hungarian Museums
André KERTÉSZ, Angelo, BRASSAÏ, BRASSAY Zoltán, CSÉPÁNY Jenő, FEKETE Gáborné, GLOVICZKY József, Gondy és Egey, HARNÓCZY Örs, HUNYADY László, Johann EILINGSFELD, KABÁCZY Szilárd, KÁLMÁN Kata, LÁNG Erzsébet, Martin MUNKÁCSI, MOHOLY-NAGY László, MÜLLER Miklós, Otto KAGERMANN, PÉCSI József, PRIBÉK Antal, TAKÁCS Vince, VADAS Ernő and others
RARELY SEEN PHOTOGRAPHS
Open to the public: June 21 to September 16 2012
on Weekdays: 14.00 - 19.00
at Weekends 11.00 - 19.00
Summer of 2012, the Hungarian House of Photography organized the first edition of its exhibition series titled Rarely seen photographs. The exhibited photos were selected from the collection of the Hungarian Museum of Photography of Kecskemét. With this initiative, we intended to showcase items from Hungarian photographic collections that, unfortunately, rarely reach the public.
Following the success of the 2010 exhibition, we were determined to continue with the series. In 2012, we exhibit rarely seen master-pieces from public collections of country-side museums. We would like to draw attention to Hungarian photography and valuable Hungarian photo collections that preserve our outstanding artistic heritage. We would like to demonstrate that we can be proud of photography – the genre whose history cannot be told without Hungarian photographers, those who emigrated and those who stayed. We would like to present the predecessors' example to younger generations of photographers. Furthermore, we would like to highlight the precious photographic collections of country-side museums, as well as emphasize the great quality of work carried out by professionals working at the country-side museums.
Artistic collaborations of the House, Gabriella Csizek and Károly Kincses curators browsed and looked at thousands of photographs over the last few months before they selected the almost 200 hundred items for the exhibition.
Our exhibition is a journey that leads visitors through real and imaginary landscapes via the photographs, allowing them to explore events or places distant in time, space, or in their abstractions. The summer season especially welcomes such adventures since, besides the concrete activity of traveling, our exhibition explores notions of longing and the experience of arrivals.
World-famous Hungarian photographers, like André Kertész, Brassaï, Martin Munkácsi and László Moholy-Nagy, are just as present as the lesser known great ones – like Angelo, Kata Kálmán, József Pécsi, or Ernő Vadas. Furthermore, our show exhibits many unknown photographers whose work deems attention with their at times surprising but definitely unique perspectives.
Exhibited photographs represent many different techniques and styles. We find ferrotypes, pigment prints, albumen prints, gelatin silver prints, as well as Polaroid transfers. Photos are dated between 1864 (Unknown: Boarding school) and 1994 (István Soltész: My connections with the outside world I 1994/2010). Both photos are from the collection of Jósa András Museum, Nyíregyháza.
---
Various forms of travels, different destinations, landscapes, cities, and people appear in front of our eyes as we look at the streets, shops, and faces that are now only recorded in these photographs. There are real treasures among the exhibited pieces:
Atmosphere of past travels or historical events are evoked on the photos of important sights or historical events taken by locals: the repatriation of Rákóczi's (leader of the Hungarian uprising against the Hapsburgs in 1703-22; Prince of Transylvania) bones or the arrival of Ernő Gerő (first secretary of the Hungarian Communist Party after WWII and briefly in 1956) on his airplane to inaugurate autobuses (Déri Museum – Debrecen).
Portraits of a small town were taken by Vilmos Vadász pharmacists in the 1930's (Báthori István Múzeum – Nyírbátor).
Captain Johann Eilingsfeld's heritage brings back the idyll of boat cruises on the Danube (Janus Pannonius Museum – Pécs).
Charles IV, the last Hungarian king and Queen Zita's visit to Szeged is also recorded for eternity (Szent István Király Museum – Székesfehérvár).
Also, different vehicles of yesteryears, such as a royal armored train, a Danube steamship, and Szeged's first car (Móra Ferenc Museum – Szeged) represent our past modes of transportation.
Courtesy of the Hungarian Museum of Photography (Kecskemét), our world-famous photographers are also exhibited. Photos by Brassaï, Martin Munkácsi, László Moholy-Nagy, József Pécsi, Kata Kálmán, or Angelo show us the world as they saw it during their travels at home or abroad.
Courtesy of the André Kertész Photography Museum of Szigetbecse, our selection also includes 10 André Kertész photos.
On the one hand, the exhibition Rarely seen photographs – A journey through the photographic treasures of Hungarian museums brings treasures somewhat hidden in the country-side to Budapest. At the same time, it also encourages all to visit museums in the country-side more often as our show only showcases only a fragment of what still rests in boxes – waiting for the moment to be introduced to the greater public again.
---
Exhibited artists
André KERTÉSZ, Angelo, BRASSAÏ, BRASSAY Zoltán, CSÉPÁNY Jenő, FEKETE Gáborné, GLOVICZKY József, Gondy és Egey, HARNÓCZY Örs, HUNYADY László, Johann EILINGSFELD, KABÁCZY Szilárd, KÁLMÁN Kata, LÁNG Erzsébet, Martin MUNKÁCSI, MOHOLY-NAGY László, MÜLLER Miklós, Otto KAGERMANN, PÉCSI József, PRIBÉK Antal, TAKÁCS Vince, VADAS Ernő and others.
Participating museums
André Kertész Fotómúzeum és Emlékház (André Kertész Photography Museum) – Szigetbecse • Báthori István Múzeum – Nyírbátor • Déri Múzeum – Debrecen • Janus Pannonius Múzeum – Pécs • Jósa András Múzeum – Nyíregyháza • Magyar Fotográfiai Múzeum – Kecskemét • Móra Ferenc Múzeum – Szeged • Szent István Király Múzeum - Székesfehérvár
Hungarian House of Photography in Mai Manó House
H-1065 Budapest-Terézváros, Nagymező utca 20.
Telephone: 473-2666
Fax: 473-2662
E-mail: maimano@maimano.hu