André Kertész Hall
George Eastman Hall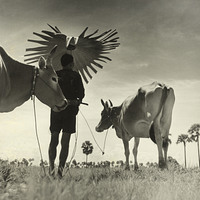 The Exhibition EXTENDED
to October 5, 2014 MAGNUM's First

Curator: Gabriella CSIZEK
Open to the public:
May 27 – October 5, 2014
on Weekdays: 11.00 - 19.00
at Weekends 11.00 - 19.00
+
3rd September 2014, 5.00 PM
Jean Marquis and the niece of Robert Capa visit the street of photography in Budapest
Guided tour and public discussion with Jean Marquis and his wife, Susy Fischer, Robert Capa's niece

We welcome two prominent guests in the street of photography when the famous photographer, Jean Marquis and his wife, Susy Fischer, Robert Capa's niece visit the institutions of photography in downtown Budapest.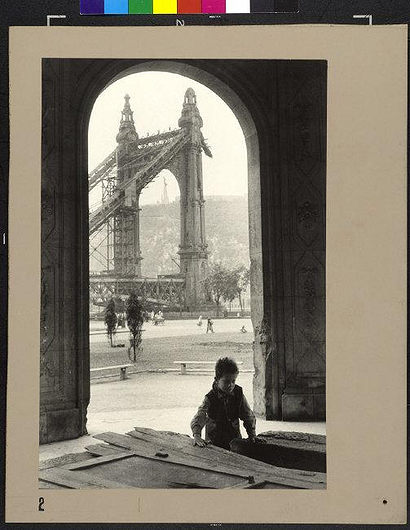 On Wednesday, September 3 at 5:30pm, Jean Marquis will guide a tour in French at the Magnum's First exhibition, where his works are also on display, in the Mai Manó House. The tour is going to be in French, interpretation to Hungarian is provided.
Following the guided tour we invite you to a public discussion with Susie Fischer and Jean Marquis in the Capa Center from 7:00pm. The talk is led by Zsuzsanna Balázs journalist in English.
Register by sending an email to zsanett.pinter@maimano.hu with the subject line: guided tour
The story of the legendary crates
The original (vintage) prints came in six cases – they were shown at exhibitions in five Austrian cities, Innsbruck, Vienna, Bregenz, Graz and Linz between June 1955 and February 1956. The photographs were accompanied by two empty suitcases which stored them for more than 50 years in a cellar of the French Institute in Innsbruck.
The exhibition entitled THE FACE OF TIME showcases the photo reports made in different continents and regions by eight members of Magnum Photos – the first independent photo agency founded in 1947 after the proposal of Robert Capa with a joint intention by Henri Cartier-Bresson, George Rodger and David "Chim" Seymour. The black-and-white photographs of Werner Bischof, Henri Cartier-Bresson, Robert Capa, Ernst Haas, Erich Lessing, Jean Marquis, Inge Morath and Marc Riboud, mounted on fibreboard of different colours, take the observers from India through Egypt, Hungary, and Dalmatia to England, France and the Andes. There are coherent series and also individual pictures among them.
Magnum's First is a very important exhibition as it allows us to gain insight into another activity of the agency, i.e. exhibiting works that are usually published by the press. This exhibition was the first stage in the process which proves that the individual activities, the unique way of seeing things and the exceptional talent of Magnum photographers also functions in a joint photographic vision about man and the world.
The first decade in the history of the photographic cooperative was marked by several tragedies. Two founding members were already dead at the time of the Austrian show: in 1954, Robert Capa stepped on a landmine in Indochina, while nine days earlier Werner Bischof lost his life in a car accident in the Andes. Therefore, the exhibition intended to prove that Magnum existed, aiming to confirm that it was able to carry on the legacy of its founding members and that the activities of the agency were of primary importance. Knowing the personality of the founders and due to their exceptional talent, one could already guess at that time how true this would be later on.
Hungarian House of Photography in Mai Manó House
H-1065 Budapest-Terézváros, Nagymező utca 20.
Telephone: 473-2666
Fax: 473-2662
E-mail: maimano@maimano.hu