George Eastman Hall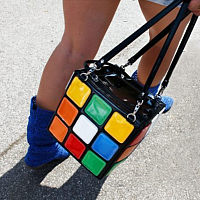 GULYÁS Miklós


Promenade

Opening remakrs by: Dr. László Beke, art historian
Curator: Virág Böröczfy, art historian

Open to the public:
December 13, 2012 – January 20, 2013
on Weekdays: 14.00 - 19.00
at Weekends 11.00 - 19.00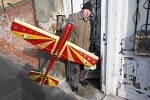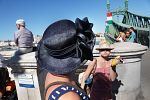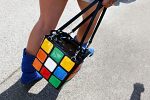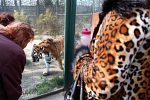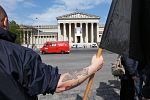 Miklós Gulyás's photo series Promenade is an imaginary walk in Budapest at the beginning of the 2010's. The images reveal hidden interconnections between streets, squares, objects, and faces that are familiar to many of us. The photographer works in the most traditional way possible: strolling around town, he photographs what he finds interesting. He, however, is not intrigued by events or situations of social importance; rather, he is drawn to its opposite and shoots ordinary, banal things. Elements of the spectacle captured in a fraction of a moment seem to fall next to each other in a random manner; yet, in fact, they are part of a quite sophisticated vision.
From the beginning of his artistic career, Miklós Gulyás has taken documentary-style photographs at various locations in Hungary. His shots from about the last four decades provide a kind of commentary on the country's mental state. At times in a lyrical manner, at other times more objectively, the images quite expressively show Hungary's state of mind and social issues at the time of the regime change.
Following the black and white imagery featured in his previous albums 1 másodperc (1 second) and Hon (Home), large-format color pictures of the series Promenade present a special visual ornamentation on the walls of the exhibition space. The incredible flood of stimuli permeating Budapest today is even more apparent through these frozen moments. As the artist puts it:
"When I go out into the streets, I often seem to find that, among other things, common sense is missing most. Poverty and barrenness are not unusual phenomena; as we lived in some sort of ongoing, ridiculous, unnecessary indulgence where, slowly, practicality becomes deviance. This phenomenon affects everyone in a variety of ways; no one can immure themselves from it. We cannot just say that they are like that. We are all affected and, therefore, we cannot be too lenient."
The photo series clearly attests to the artist's critical attitude that he himself refers to as caricature-realism. This is not an outsider's impersonal criticism, but rather it is a kind of personal experience that encompasses the shared experience of those living here today. By looking at the images, we may ponder over issues like how much influence we have on forming our own lives and our environment, or who we actually are and where we are headed in the second decade of the 21st century in the heart of Europe.
Virág Böröczfy,
curator of the exhibition
---
Awarded with the Balogh Rudolf prize, the photographer teaches at Moholy-Nagy University of Art and Design, Budapest (former Hungarian College/University of Applied Arts) as a professor at the Department of Photography since 1989. He is one of the team developing the system of private educational programs in photography. In 2002, he became founder and artistic director of the organization Fotografus.hu – Foundation for Hungarian Photography, which runs one of Hungary's largest online contemporary photo galleries on the website www.fotografus.hu. Actively photographing, he recently published two photo albums: 1 másodperc (1 second) and Hon (Home).
Hungarian House of Photography in Mai Manó House
H-1065 Budapest-Terézváros, Nagymezõ utca 20.
Telephone: 473-2666
Fax: 473-2662
E-mail: maimano@maimano.hu