George Eastman Hall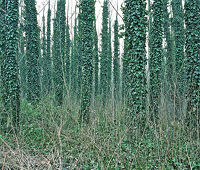 Dániel Kovalovszky


Green silence

Opening remakrs by: Tillmann J. A., philosopher, Moholy-Nagy University of Art and Design, Budapest
Curator: Gabriella Csizek

Open to the public: January 25 – March 3, 2013
on Weekdays: 14.00 - 19.00
at Weekends 11.00 - 19.00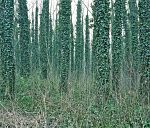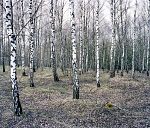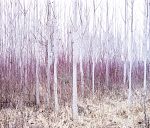 One secret of photography lies in its ability to expose the visible world through a photograph, revealing hidden relationships, feelings, dreams, desires, and questions.
Dániel Kovalovszky's exhibition captures the invisible yet perceptible magic - the silence that exists in everyone. Trees, whose lives are measured by their annual rings, live through the noiseless succession of continuous and almost unperceived changes. In forests where the laws of now do not prevail and time cannot be measured in moments; there, the rhythm of things is entirely different and existence manifests itself as instinct, for itself.
In Dániel Kovalovszky's forest-portraits we come to know its different faces, the traces of various events retained in its trunks, and all that is revealed through the order of nature over the centuries. He shows us his island. Albeit it might be different for all of us, he shows us the island we all have: a place or activity we withdraw to, where we rest, find home, and open new perspectives. A place where, while silently observing ourselves, we can find our own internal paths and touch the infinite.
Gabriella Csizek
curator
---
Green Silence
Nature is resided by the unknown, the unfathomable. The trees are the gateway leading to it. The trees in the forest are not aware of the noisy, suffocating urban existence humans live in, or merely try to survive. The trees simply perform their task for which they were coded by a higher power in bygone times. They are in continuous, invisible motion, always changing, and breathing. While in the "human world" the hopeless rat race, alienation, wars, economic crises are continuous, here, among the trees it all seems remote. This distant, ancient calm embraces those who enter into it. I look for silence when I enter these spaces. The silence that cleanses me of noises and helps me become whole again. I search for the infinite and for the beginnings. For my own beginnings. I seek for the untouched, the everlasting, the perfect in the imperfect. When I enter the forest, I can search and abandon all awareness for a while. A new space is created around me; a space much desired and infinite. I can breathe freely. It feels like I breathe in unison with the trees. In the meantime, it is as if the trees are watching me, as if they were to listen to my wordlessness with ancient wisdom. The trees are witnesses to a disappearing world and I think they know everything about me. I keep on seeking them out, these gates to nature, so that I return to my world, from which I can seek refuge over and over again.
Kovalovszky Dániel
---
Daniel Kovalovszky

Born in 1979, lives in Budapest, Hungary.
Solo shows
2010 Memory Factory, Lumen Gallery, Budapest
2009 Memory Factory, Hungarian House of Photography
2007 Shooting Stars Home, Raiffeisen Bank, Budapest
2005 Sterile Timelessness, Gödör Club, Budapest
Group shows
2012 Other Worlds, The Art Gallery at Flannels, Leeds, UK
2011 Foto8 Summershow 2011, Host Gallery, London, UK
2011 Budapest Positive, Maribor, Slovenia
2011 Art Market Budapest, Millenáris Convention Center, Budapest, Hungary
2010 Present Continuous I-IV, Gallery of Contemporary Art Celje, Slovenia
2009 Present Continuous I-IV, Central European House of Photography, Bratislava
2008 Present Continuous I-IV, Hungarian House of Photography, Budapest
2006 Krakow Photomonth Festival, Krakow, Poland
Awards and honors
2011 Honorable Mention, Exhibit A Photography, Sydney, Australia
2011 Runner-up, JGS Quarterly Photography Contest, Forward Thinking Museum
2011 Scholarship of the National Cultural Fund of Hungary
2008 Junior Prima Award, Hungary
2008 Photography Grant of Budapest, Hungary
2008 65th POYI, 3rd place, General Division / Portrait Story, Kansas City USA
2006 63rd POYI, 2nd place, Newspaper Division / Feature Picture Story, Washington USA
2006 - 2008 Winner of the József Pécsi Fine Art Photography Grant, Hungary
2005 Hungarian Press Photo, Portrait category, 1st Place
2004 Hungarian Press Photo, Daily Life category, 1st Place
2004 Winner of the Photo Essay Competition, Hungary
2004 Scholarship of the National Cultural Fund of Hungary
Hungarian House of Photography in Mai Manó House
H-1065 Budapest-Terézváros, Nagymezõ utca 20.
Telephone: 473-2666
Fax: 473-2662
E-mail: maimano@maimano.hu