Mai Manó Gallery ("Kis Manó")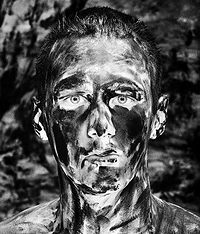 Szami


Glaze

Opening remarks by: József Mélyi, art historian
Curator: Károly Kincses, photomuseologist

Open to the public:
21st January to 20th March 2011
on Weekdays: 14.00 – 19.00
at Weekends 11.00 – 19.00
Glaze. Pose. Pictures. Faces.
Confronted by faces like these, you have to pinch yourself to make sure you are awake and not dreaming. If the latter, it could be there is a full moon and these faces appear after you have eaten two plates-full of bulging stuffed cabbage rolls amply topped with sour cream. If this is the case, do not despair, you will be fine in the morning.
But if you are awake, then you must certainly be at the Mai Manó Gallery in Januaury 2011 looking at Szami's painted black and white portraits.
They were originally beautiful young people with face painting dreamt up by the photographer and backgrounds and surroundings invented for them. And if on seeing them, anyone recalls the expressionist paintings of the very beginning of the last century, according to the book of dreams that is not necessarily a bad thing for them or for the artist. They say that expressionism is one of the artistic forms or styles that expresses rather than represents and as such we can be sure that the expressionist artist lives in a world laden with contradictions and discord. This is why he chooses modes of expression that are effective, powerful, unusual, intense, full of hard contrasts and why he uses modern forms.
This is exactly what Szami is doing here. If you don't believe me, have a look.
Károly Kincses
I was born in Győr in 1987
Education
2009 graduated from the Práter Street School of Photography
2009 began conferring with Szilvia Mucsy as a private student
Work
2007-2009 practical training at the 3W Studio in Győr - photographer's assistant
2009-2010 Alternative Magazine, Győr - art director
2009 - SP Works Photo Workshop and Advertising Studio, Győr - project organizer, photographer
Selected solo exhibitions
2007 - Rómer House, Győr
2007 - Széchenyi University, Győr
2008 - Deja Vu Café, Győr
2009 - Media wave Festival, Győr
2010 - MVBMK (Cultural Centre), Győr
2010 - Fahéj Café, Budapest
Selected group exhibitions
2007 - Bezerédj Castle, Ménfőcsanak, Győr
2007 - MVBMK (Cultural Centre), Győr
2008 - Children's House, Győr
2008 - Passport Control Photo Workshop
2008 - Vth International Photography Exhibition, Budapest - 1st prize in the youth category
2009 - 42nd International Secondary School Photography Competition, Pécs
2009 - Young Artists Exhibition, Budapest
2009 - National Geographic International Photography Competition, Budapest
2010 - Photography Biennale at the Rondella Gallery, Esztergom and the Kolta Gallery, Budapest
2010 - RANDOM experimental exhibition, Győr
Membership
2010 - Association of Hungarian Art Photographers
Work in public collections
Hungarian Museum of Photography, Kecskemét
Hungarian House of Photography in Mai Manó House
H-1065 Budapest-Terézváros, Nagymező utca 20.
Telephone: 473-2666
Fax: 473-2662
E-mail: maimano@maimano.hu