Mai Manó Gallery ("Kis Manó")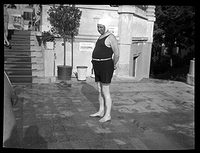 Visiting the exhibition
IS FREE OF CHARGE!
Lifeguard Sándor Pusztai's photos 1930-1939


Politicians in bathing suit

Opening remarks by the curator: Károly Kincses photo-museologist

Open to the public: May 11 – June 24, 2012
on Weekdays: 14.00 - 19.00
at Weekends 11.00 - 19.00
Like the sequence of weeks, months, and years, at times, ordinary workdays of a photo-curator are also interrupted by red-letter days. Usually, he just simply does his job: looks for and organizes data, writes, manages, Generally he just does his job, looking for data and putting them into their right place, writes, organizes, and curates material, amongst other things.
Then all of a sudden, his door opens and a person arrives with a shoe-box under her arm. "Photos and negatives of my grandfather," - she says. And then, the aforementioned curator puts aside what he has been fiddling around and pays a duty-bound look into the box. All at once, like an ice cube under infra light, his sense of duty melts away and gives its place to a hunting instinct. He keeps on looking at the photos and asking for more and more with a wider and wider grin on his face, as he knows, it is a special occasion. Such things do not happen very often to him, even if he would like so.
But what was in the box?
I saw small, 4×5 cm nitrate negatives and their contact copies, and plastic bags with shaky, almost illegible notes on them. And all this made up an extraordinary story.
Once there was a young man of gentry descent from the eastern borders; he came from a rather affluent family with his parents running baths and beaches until they went bankrupt. And then the boy, our protagonist, started working as a lifeguard at other baths. For our younger readers: the lifeguard of the 1920's-30's was not the white-dressed person at the side of the pool, always bored on duty, but a personality, someone who was responsible for the comfort of the guests. He might have been considered the most important person in a bath.
So this man, not only did he perform his lifeguard duties for years, but for some inexplicable reason, undefined for him as well, but he was also photographing guests. This is how photos commemorate celebrities of the time, such as Frigyes Karinthy, Jenő Heltai, Kunó Klébersberg, and Miklós Horthy Jr. , Klári Tolai, and Gitta Alpár, in their bathing suits.
The most remarkable aspect of this occurrence, in fact, does not lay in the achievement of the voyeur-photographer, but it is the totally unified and interesting result that gives us a special segment of the aristocrats, politicians, and artists who attended the Gellért and Széchenyi baths between the two World Wars. Now as we are in the age of re-heroisation and idealisation without selection or applying a critical mind, it is refreshing to see these people only as people.
Károly Kincses
---
Sándor Pusztai

1899 – 1978
He was born Sándor Pelach in Nyíregyháza in November 30, 1899 as the first of the seven children in his family. As a young man, he liked singing and thought of becoming an opera singer. His father was not too happy about this idea, saying that he would bring up no aristocrats. As his parents were renting and running various baths (Pünkösdfürdő, Csillaghegy), he ended up to become a life guard. At that time this position did not only mean being the lifeguard of the guests but also entailed the job of a swimming instructor. Later when his father left the family all seven children changed their name from Pelach to Pusztai. He was a soldier during WWI and then continued working in baths.
In the 1930's he was a lifeguard in Gellért bath, one of the favorite places of the social elite of that time. He encountered celebrities day by day, thus he had a nodding acquaintance with most of them. Photography being his hobby he took the opportunity of taking photos of these people for ages. The lasting result of this activity is a collection of more than 600 stamp-sized photo-contacts and their 3×4.5 cm negatives.
Notes and inscriptions on these photos show that he also gave them to his models as presents. He must have recognized the worth of his collection as he rearranged the photos into an album himself. The collection survived both WWII and the Revolution in 1956 in boxes. He continuously went through, studied, and organized his photos.
He stayed in Budapest during the Second World War and continued working as long as he could. He was a joyful, family-loving person who cared for the education of his brothers ad sisters as well. Due to these responsibilities, the war and his vagabond lifestyle he got married rather late. He married a girl, 14 years younger than he was, who worked in the bath as well. He was already 45 years old when his son, my father was born. He was a remote and quiet old man, who loved working in his garden in Velence-fürdő and going boating on the lake.
When I look at these photos I know, I can feel what he was thinking of and remembering in his lonely, peaceful old times and hours. He died in February 15, 1978 in Balatonfüred in a cardiac hospital, on the 34th birthday of his only son.
The collection spent decades in my father's and than in my drawers until one day, for some reason, it became important for me to share it with others as well.
Enikő Pusztai
Hungarian House of Photography in Mai Manó House
H-1065 Budapest-Terézváros, Nagymező utca 20.
Telephone: 473-2666
Fax: 473-2662
E-mail: maimano@maimano.hu