Mai Manó Gallery ("Kis Manó")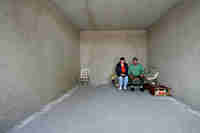 Visiting the exhibition
IS FREE OF CHARGE!
Photojournalist of the year


Zsolt REVICZKY

Open to the public:
April 19 – May 25, 2013
on Weekdays: 14.00 - 19.00
at Weekends 11.00 - 19.00
Photojournalist of the year
The Hungarian House of Photography – Mai Manó House regularly presents the work of the photographer awarded with the Grand Prix of the Hungarian Press Photography competition. In cooperation with the Society of Hungarian Press Photographers, the exhibition is realized in the Mai Manó Gallery annually. In 2013, the jury awarded Zsolt Reviczky for his "Outstanding professional achievement in 2012
---
Zsolt REVICZKY (1968)
1987-1992 Budapest University of Technology and Economics, biology - engineering
1991 Colorado State University, biochemical engineering, exchange student
1993-1994 Hungarian University of Physical Education, parachute trainer, sports manager
2002-2003 Bálint György Academy of Journalism at the Association of Hungarian Journalists
2010- Association of Hungarian Photographers 
2003-2005 Színes Mai Lap
2005- Népszabadság
2007- Marie Claire Mo.
Hungarian Press Photo Awards 2003 Nature and environment 1st prize
Hungarian Press Photo Awards 2005 News 1st prize
Hungarian Press Photo Awards 2005 Photo report 3rd prize
Ezüstgerely sports photo contest 2005 2nd prize
Hungarian Press Photo Awards 2006 Sport (series) 1st prize
Hungarian Press Photo Awards 2006 Social documentary photography (series) 2nd prize
Hungarian Press Photo Awards 2006 Genre 3rd prize
National Geographic fotópályázat 2007 Social portraiture 3rd prize
Hungarian Press Photo Awards 2007 Photo report 2nd prize
Hungarian Press Photo Awards 2007 Social documentary photography (individual photo) 2nd prize
Hungarian Press Photo Awards 2007 Art (individual photo) 2nd prize
Hungarian Press Photo Awards 2007 Special prize from the Association of Hungarian Photographers
Népszabadság Award 2007 Journalist of the Year
100 féle Erdély (Erdély of 100 kinds) 2008 Documentary – Grand prize
2008 Grant from National Cultural Fund of Hungary
Hungarian Press Photo Awards 2008 Art (individual photo) 3rd prize
Hungarian Press Photo Awards 2008 Nature and environment (series) 3rd prize
National Geographic fotópályázat 2008 Social portraiture 1st prize
Hungarian Press Photo Awards 2009 Art (series) 1st prize
2010 Ringier International Photo Award 1st prize
Hungarian Press Photo Awards 2010 Sport (individual photo) 1st prize
Hungarian Press Photo Awards 2011 Genre 1st prize
Hungarian Press Photo Awards 2011 Art (individual photo) 2nd prize
Népszabadság Award 2011
Hungarian Press Photo Awards 2012 Photo report 3rd prize
Hungarian Press Photo Awards 2012 Grand Prize
Budapesti History Museum – Budapest Galéria Residency to Stuttgart 2013
Publications:
- K. und K. kalandozások – avagy a Habsburg birodalom nyomában a XXI. században (2007)
- Europe in Budapest – a guide to its many cultures (2011)
Hungarian House of Photography in Mai Manó House
H-1065 Budapest-Terézváros, Nagymező utca 20.
Telephone: 473-2666
Fax: 473-2662
E-mail: maimano@maimano.hu