Mai Manó Gallery ("Kis Manó")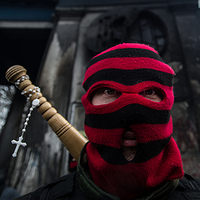 Visiting the exhibition
IS FREE OF CHARGE!
BIELIK István




Grand Prize Winner of the National Association of Hungarian Journalists 2014


Images from Maidan Square

Open to the public:
April 4 – May 4, 2014
on Weekdays: 14.00 - 19.00
at Weekends 11.00 - 19.00
The Hungarian House of Photography – Mai Manó House regularly presents the work of the photographer awarded with the Grand Prize by the National Association of Hungarian Journalists at the Hungarian Press Photo Contest. In cooperation with the Press Photographers Section, the exhibition is realized in the Mai Manó Gallery annually. In 2014, the jury awarded István Bielik for his series The Never-ending Hell.
---
Facts:
In November 2013, demonstrations began on Maidan, the main square of Kiev, organized by the Euromaidan opposition group. The protests were prompted by Prime Minister Viktor Yanukovych refusing to sign an association agreement with the European Union when he received a favorable offer from Russian President Vladimir Putin.
Demonstrations continued steadily until they escalated to bloody clashes between protesters and police forces in mid-February, 2014. On February 18, 2014, the conflicts claimed twenty lives; by the morning of February 21, this number grew to eighty.
The violence attracted international acclaim and three EU foreign ministers arrived in Kiev to mediate between the opposition leaders of Euromaidan and Yanukovych. These negotiations resulted in an agreement that was signed in the afternoon of February 21, Friday.
Representatives of Yanukovych's Party of Regions began to quit the party, while he left his presidential estate over night and left for an unknown location with his bodyguards. The next morning, on February 22, the Parliament acquitted Yanukovych by a vote of no confidence and then passed a new law releasing Yulia Tymoshenko from prison.
Personal:
As a photojournalist, I felt obliged to report the events taking place in the neighboring country. I, therefore, convinced my superiors and visited Kiev two times during the unrest to take photographs of the revolution for the periodical Népszava.
This exhibition is a small selection from the images that were taken during those times.
Bielik István
---
BIELIK István
In the summer of 2007, I joined Népszava (periodical) as an intern from the photography school of Práter Street. I acquired the tricks of the trade. Since 2008, I worked as a contributor, but since 2010 I am a contracted employee. At the 32nd Hungarian Press Photo Contest, I was awarded with the Grand Prize Winner of the National Association of Hungarian Journalists for my series shot in Syria.
Hungarian House of Photography in Mai Manó House
H-1065 Budapest-Terézváros, Nagymező utca 20.
Telephone: 473-2666
Fax: 473-2662
E-mail: maimano@maimano.hu