Mai Manó Gallery ("Kis Manó")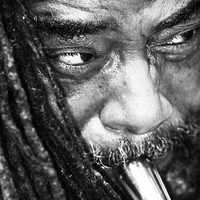 Visiting the exhibition
IS FREE OF CHARGE!
Csaba István SÁNTA


JAZZ

Open to the public:
September 5 – October 5, 2014
on Weekdays: 14.00 - 19.00
at Weekends 11.00 - 19.00
Living amongst us, there is a young professional photographer from Transylvania, who, without ever being officially commissioned to do so, decided to take images of jazz legends. The majority of these great musicians still continues to enchant their appreciative audiences at the age of seventy or eighty and the photographer spares no time or pain, and the little money he has, to follow these artist wherever they play and to photograph them. His subjects have included Ornette Coleman, Chick Corea or Quincy Jones, while they played at European or American festivals, jazz clubs and concert halls. This exhibition is rather particular as many of the artists he so systematically captured are no longer among us.
Károly Kincses,
curator of the exhibition
---
Jazz photos
The concept behind this exhibition of portraits is based on the family tree of American jazz musicians produced by Peter von Bartkowski.
The carefully detailed outline of the family tree provides an overview of prominent and dominant figures of various American jazz styles from the beginning to the present.
When I heard some music composed by Chick Corea in the summer of 2004, I was immediately captured by jazz music, which automatically propelled me to link this admiration with photography. My interest, which previously focused on social representation, had thus expanded.
As I become acquainted with more and more artists and their work, I began to follow their tours in Hungary, and later I also traveled to some of their major concerts abroad.
With the photo material produced over the years, my goal is to show the elite of contemporary American jazz musicians as seen through my lens in the form of an album or at various exhibitions.
Csaba István SÁNTA
---
Csaba István Sánta
Csaba István Sánta, two-time Hungarian Press Photo-award winning freelance photographer, was born in Sfântu Gheorghe (Sepsiszentgyörgy), Transylvania. He moved to Budapest and learned the basics of the trade at the photography track of the school on Práter Street. His encounter with Henri Cartier-Bresson in 2002 and later with Josef Koudelka made a great impression on him.
Photography also opened a new chapter in his life, offering him many opportunities of traveling. He hitchhiked through the most of Europe, reaching Africa as well via Gibraltar. While in the Far East, he visited Thailand, Cambodia, and Vietnam, and later China. He aims to get to know as many cultures as possible and immortalize them through photography. Besides portraying society, he is also prolific in concert photography as he is a great admirer of jazz music. He has taken the photos of a number of world-renowned jazz musicians at concerts in Hungary and abroad.
As an official photographer, he was at major jazz festivals all over the world, such as Hong Kong International Jazz Festival, Montreux Jazz Festival, Vienna Jazz Festival, London Jazz Festival, Torino Jazz Festival, NYC Winter Jazzfest, among others. He also visited countless jazz clubs (e.g.: all the famous clubs of New York City (Blue Note, Birdland, Dizzy's Club Coca-Cola, Village Vanguard, Smoke, etc.), as well as major concert halls (Carnegie Hall in New York City; the New York City Opera; the Egg in Albany; London's Barbican and the Royal Festival Hall; the Vienna Konzerthaus; and the Palace of Arts in Budapest).
His photographs were published multiple times: New York City Jazz Records; Kleine Zeitung; origo.hu's compilation of the "Best Photos of the Year;" Jazzma. He was also exhibited in many group and individual exhibitions in Hungary and abroad as well. His last show was on view in the Hungarian Consulate in New York.
Hungarian House of Photography in Mai Manó House
H-1065 Budapest-Terézváros, Nagymező utca 20.
Telephone: 473-2666
Fax: 473-2662
E-mail: maimano@maimano.hu