André Kertész Hall,
George Eastman Hall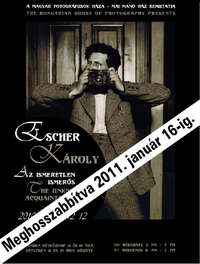 The Exhibition EXTENDED
to 16th January 2011
Károly Escher


The unknown acquaintance

Curator: Béla Albertini, Photo historian

Open to the public:
22nd October 2010 to 16th January 2011
on Weekdays: 14.00 – 19.00
at Weekends 11.00 – 19.00
The unknown acquaintance
A widespread misbelief holds that the greatest photographers (André Kertész, Brassai, Moholy-Nagy, Martin Munkácsi, Robert Capa), all and sundry, had left Hungary between the two world wars in order to then later become giants of photo history in other countries. Károly Escher (1890-1966) belonged to those who remained home; we all know, however, that his body of works cannot be ignored as the standard of his photographs places him among the aforementioned great photographers. The last grand, comprehensive exhibition of Escher's photos was organized in 1965.
Károly Escher was born 120 years ago; commemorating the anniversary, the Hungarian House of Photography - Mai Manó House gives home to a genuine professional photo event. We exhibit the oeuvre of a magnificent photographer, who could elevate photojournalism to an artistic level and whose photographs have not been discarded or forgotten on shelves upon losing their immediate relevance.
In Hungary, he was among the first who could, indeed, speak and think in pictures.
Photo historian Béla Albertini, curator to the exhibition The Unknown Acquaintance, has been researching the many thousands of photographs in Escher's oeuvre for decades. The Hungarian House of Photography exhibits 75 Escher photos from the collections of the Hungarian Museum of Photography (Kecskemét), the National Széchenyi Library, the Gadányi private collection, and that of the Hungarian National Museum. The exhibit organized by the curator presents well-known historical figures (Pál Teleki, Archduke Joseph, Miklós Horthy), artists (József Rippl-Rónai, Gizi Bajor, Pál Jávor) from the last century, as well as other up to par examples of photojournalism. Besides the many original photographs, visitors may see countless documents (marriage certificate, cards, police orders) displayed in the cabinets, or they can leaf through facsimile publications (the Est periodicals, or other newspapers and magazines) illustrated by Escher's shots in the reading corner invoking the atmosphere of a café.
---
Life and works of Károly Escher
Károly Escher was born in Szekszárd in 1890. He attended school in Budapest. At a very young age, he was a draftsman at large factories, then worked as a cameraman for many news programs and feature films. Sári Fedák, one of the era's most well-known prima-donnas, sang the recruiter song in his first feature film. His name appears ont he crew list of Oszkár Damó's 1919 movie The Nanny (A dada) based on Sándor Bródy's work. He also worked on movies produced at the Star Studio. By the end of the twenties, the cinematic phase of his life had come to an end.
Photography had come to Escher at an early age and remained with him forever. At the age of 10, he fabricated a camera from a cigar box, and in 1912, he received his first real camera. In 1928, Rudolf Balogh and Ernő Mihályfi asked him to be the photo reporter of the Est Lapok (Evening periodicals) after their previous photographer, Martin Munkácsi, got a contract in Berlin. The most prestigious media empire of contemporary Hungary owned three dailies: Az Est (The Evening), Magyarország (Hungary), and the Pesti Napló (Pest Journal); later, they also published the Pesti Napló Képes Melléklete (Photo insert to the Pesti Napló). He spent over 10 years there.
Going beyond the daily routine, he discovered an eye and talent in order to take several outstanding shots. He had a role in making the photo insert of the Pesti Napló magazine the most prominent magazine in Hungarian photographic media. Following the forced elimination of the publication in 1939, he became the photographer of Híd and Film Színház Irodalom. After 1945, he had worked with various publications (Képes Világ, Színház, Képes Figyelő, and the Kis Képes). While he retired as a photographer for the Urban Science and Planning Institute (VÁTI), he continued to take photos for the "Hungarian Foreign Trade" export trade commercial publication.
His album with Miklós Vajda on actress Gizi Bajor appeared in 1958, while his own album Riportfényképezés (Journalist photography) was released in 1959. In 1965, a retrospective exhibition of his works was installed in the Hungarian National Gallery. In 1966, a short book was published concerning him after his death with the title Fotó Escher. Károly Escher had never been awarded the recognition he would have deserved for his professional performance but for the award honors of the Hungarian Order of Labor Silver and Distinguished Artist.
His oeuvre is exceptionally varied. We may have all encountered his works during our studies (for example, the documentation of the meeting between Attila József and Thomas Mann). His famous shot with motion blur technique of the performance The Miraculous Mandarin is well-known for all.
He was among the first photographers to adopt the 35 mm camera and to make use of the motion blur, provoking debates among numerous editors and photo critics who were used to pin-sharp but static photos. This style, along with Escher's openness and inquisitive personality, resulted in an extremely heterogeneous legacy. He photographed statesmen and politicians, as well as evicted paupers and victims of raids. He shot pictures of lovers in the park and actresses, clipped poodles and murderers on the death row, poetic streets covered in snow, accidents, sports events, and dance balls. He recorded Bartók, as well as Szálasi. He found interest both in the luminous Budapest and in the thatched farmhouse. He took an incredible number of photographs.
Being a photojournalist, he took the risk of clashing even with the police; disregarding the refusal of permission, he took photos of the husband-murderess Mrs. Bognár ("the cutter") during her confession. With his camera on hand, he was among the firsts on site of the explosion of the Biatorbágy viaduct. His long shot taken there has become a sensation at photo auctions for a reason. He took photos, by occupation, of almost all public figures of his time. Miklós Horthy, István Bethlen, Gyula Gömbös, Ferenc Szálasi appeared on his photographs along with Zoltán Tildy, Árpád Szakasits, Mátyás Rákos, and the returning Mihály Károlyi. The exhibition of 1965 failed to bear evidence of such diversity.
Escher approached victims of social marginalization and financial distress with compassion. He was among the best in Hungarian social photography: his series on the slums of Hangyatelep (in Budapest) generated such social indignation that resulted in the dissolution of the slums. Can a photo journalist wish for more?
---
Related events
Besides the Hungarian House of Photography, Károly Escher's 120th birth anniversary is also commemorated by the National Széchényi Library with the exhibition The hidden oeuvre. Based on the Escher negatives archived at the library, Katalin Csillag mainly selected from unknown photos. The exhibition set up in József Attila Art Center mainly features not previously seen captures from public and private collections.
One of his elementary schools - today's Szinyei Merse Pál Secondary Grammar School in the 6th district of Budapest - will place a plaque in October to commemorate him.
A two-volume monograph of Escher is in the works in three languages; it will be published in 2011 along with an exhibition organized in his birth town.
The Escher Károly Free University was launched this spring in Szekszárd, offering many lectures on his life and works until next spring.
Hungarian House of Photography in Mai Manó House
H-1065 Budapest-Terézváros, Nagymező utca 20.
Telephone: 473-2666
Fax: 473-2662
E-mail: maimano@maimano.hu