André Kertész Hall,
George Eastman Hall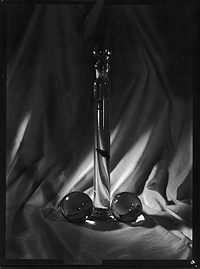 András Balla


The Fragrant Garden

Opening remarks by László Fábián, writer

Open to the public:
21st January to 20th March 2011
on Weekdays: 14.00 – 19.00
at Weekends 11.00 – 19.00
András Balla: The Fragrant Garden
There is nothing extraordinary about an excellent photographer taking excellent photographs. But if a trained landscape artist switches over to photography, wins more and more prizes and becomes a driving force in photography, that is certainly of interest.
After graduating from the Budapest University of Horticulture, András Balla (1945), embarked on photography in earnest.
He also works with traditional cameras a hundred years old and passes on this knowledge to his students. His studies in art history are interlinked with his activities in photography.
He lives in Esztergom, working as a landscape-gardener and art photographer. As founder and director of the Esztergom Photo Club, his work is significant amongst local artists and in the cultural life of the city.
He has been director of the Esztergom Photo Biennale for thirty-five years, is the inventor and founder of the Esztergom Artists Guild, of the Origo group, he was director of the Young Art Photographers Studio for six years and has also served on the admission committee and presidium of the Association of Art Photographers. Since 1985 he has won numerous international and Hungarian awards. Recently he won the prize of the Foundation for Living Art and in 2009, the Grand Prize of Hungarian Photography.
The Grand Prize of Hungarian Photography was sponsored by T-Mobile Hungary Telecommunications Co. and was awarded by them on the basis of voting by members of the Association of Hungarian Art Photographers. (In former years, this prize was won by Imre Benkő (2004), Katalin Baricz (2005), Paulius Normantas (2006), Lenke Szilágyi (2007) and György Tóth (2008).
The exhibition at the Hungarian House of Photography includes Balla's pictures of gardens and his concepts. Unlike pictures of classic high points of landscape gardening, the French and Italian renaissance and baroque gardens on postcards and in travel guides, he has photographed gardens in foggy, misty weather. In this way, the richness and pomp gain new meaning.
In the second and third rooms the works on show are garden portraits, classic nudes and erotically shaped objects, rich in the symbols they indicate both in their concept and technique. They bring to mind Hungarian folk songs or even the Song of Songs from the bible and Arab love poetry.
A marked difference takes place in the fourth room where we see the self-taught, naive photography of garden works. They are unusual in that Balla's interpretations avoid being critical in the name of good taste and as artistic creations the pictures are closer to do-it-yourself products or mass-produced plaster casts. "I photograph these with the same professional humility, respect and photographic technique as I do works of "high art",' says the artist. "In many cases this produces surprisingly beautiful pictures, which provide much food for thought, even considering them from the prejudicial standpoint that has developed as to their so called kitsch quality.(...) As I collected the objects, my point of view has become more accepting.(...) It is only when they retire that many people finally manage to realize the cherished dreams of their childhood: making models of storybook heroes, building castles and so on.'
We thank you for your visit and hope you will enjoy the exhibition.
Hungarian House of Photography in Mai Manó House
H-1065 Budapest-Terézváros, Nagymező utca 20.
Telephone: 473-2666
Fax: 473-2662
E-mail: maimano@maimano.hu