André Kertész Hall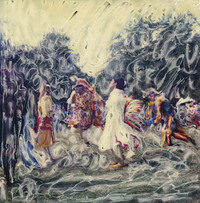 Erika Lakatos


Roma Icons, New York - Budapest, 1996-2011

Opening remarks by Tímea Junghaus, art historian
Curatos: Károly Kincses, fotomuseologist

Open to the public:
25th March to 8th May 2011
on Weekdays: 14.00 – 19.00
at Weekends 11.00 – 19.00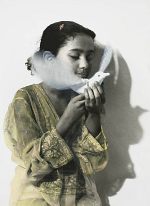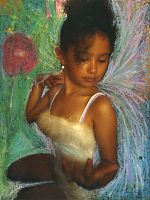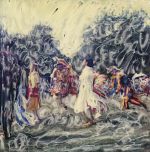 Erika Lakatos comes to fine arts from a family of renowned musicians.
In 1994, she has to take another major besides jazz at Long Island University, so, as only the photography department has available spots, she has to study photography. Prof. Stuart Fishelson then introduces her to alternative techniques, providing great inspiration for the young artist. Not only does she acquire these skills, but she improves them. She experiments with the sepia technique, creating small-sized photographs. She often works with instant film; these Polaroids she later scans, blows up, and enhances with hand-painting. She appreciates Andy Warhol, Salvado Dalí, and Anton Corbijn, among others, as her role models in creativity and freedom. (Since many parallels have been drawn between music and fine arts, I would only add that the genre of jazz is closely interconnected with improvisation, the bending of boundaries, seeking new forms and ways of expression.)
In 1997, Prof. Fishelson gets so impressed by Erika's photo Princess Sophie's Dream that he encourages her to submit her work to an international university photo contest. The photo wins the creative award of the contest and it remains a branding image for the school's media department. (It is now on view at our exhibition.)
In the meantime, she is active in music and is also a member of a flamenco musical theater. She easily navigates between various styles while authentically blending melodies of Spanish, Roma, and mainstream jazz.
Upon earning her M.A. in music and photography (2003) and exhibiting at many New York venues, she teaches drawing at a state school in Brooklyn. In 2004, she moves back to Hungary. She exhibits frequently, the galleries include, among others, K.A.S., Balázs János Galéria, and the Uránia National Film Theatre.
Central to her art, which continually strives to expand the boundaries of fine arts and photography, is the portrait. Erika Lakatos refers to a group of such portrait images as icons. As it is known the birth of icons can be dated back to the early centuries of Christianity. Creating an icon is a sacred activity; the piece created is in itself a sacred that shows the person, the biblical figure, or the saint not in its earthly body but in its transcendentalism.
According to the curator, Károly Kincses's promise, the peculiarity of the exhibition Roma Icons, New York – Budapest, 1996 – 2011 opening in the Hungarian House of Photography on March 24 will not leave any visitor unaffected:
"Polaroids, Polaroid transfers – all subsequently re-touched, painted, and fashioned manually. The blow-ups display a variety of themes, a palette of colors, as well as a unique and eventual development of her art. The outcome exhibits an intense emotional effect unequalled to anything seen before, impressing even the photo curator who ex officio stares at countless photos on a daily basis. Besides the wild and rampant proliferation of images, colors, and shapes in her work, the photographer's individual mode of composition is also peculiar. Such articulation of artistic expression does not often occur in Hungarian photo art and, as such, is exemplary. Awarded with the title of Photographer of the Year in 1997 in Washington, Erika Lakatos demonstrates subjectivity with novelty and quality – an approach we've been waiting for so long."
(Károly Kincses)
Hungarian House of Photography in Mai Manó House
H-1065 Budapest-Terézváros, Nagymező utca 20.
Telephone: 473-2666
Fax: 473-2662
E-mail: maimano@maimano.hu