André Kertész Hall
George Eastman Hall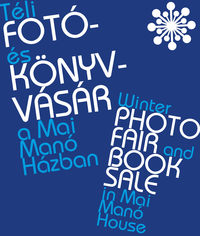 Winter Photo Fair in Mai Manó House
90 contemporary photographers with over 100 photos
Good Exchange: photo for money
Open to the public: 8 December 2011 - 29 January 2012
on Weekdays: 14.00 - 19.00
at Weekends 11.00 - 19.00
The Hungarian House of Photography – Mai Manó House organizes a Winter Photo Fair between December 8 and 31, 2011 in its 1st floor exhibition room and the Mai Manó Book Shop.
The exhibition and fair presents a high-quality selection from the exhibitions of the last three years at Mai Manó House, as well as from the photos of the artists included in the Present Continuous art project.
"The House aims to strengthen the status of contemporary Hungarian photographers. Through the commercial presentation of their works, we would like to assist them in the processes of discovery, showcasing, and canonization of their works.
A fact: each era produces its appropriate artistic forms. The artifact of the 20th and especially of the 21st centuries is the photograph. This photograph that is not one in ad-lib copies but an original, unique artifact that once will be as
sought-after and hardly procurable as a classic painting today. A fact: today's contemporary photographs will be yesterday's object of art. Therefore, we provide an opportunity for purchase to everyone; we invite those who are interested in acquiring or gifting a unique photo-object or a photo-message. But we also invite the presence of art collectors who intend photos for the future; since what is considered classic today was once contemporary."
The Mai Manó Book Shop awaits admirers of photography with special deals for the holiday. Each day of the Advent calendar, we offer an item related to photography, ranging from books, albums, calendars to LOMO cameras, at a 10% discount. Look for this special calendar on our website and check out the daily specials.
Opening hours during the Winter Photo Fair and Book Sale are the same as our regular calendar: on weekdays from 2pm to 7pm, at weekends from 11am to 7pm.
BALLA András ● BALLA Tamás ● BARAKONYI Szabolcs ● BARICZ Katalin ● BARTA Zsolt Péter ● BÁCSI Róbert László ● BASKA Barbara ● BÁLINT Dániel ● BECSEY Kristóf ● BENKÓ Tamás ● BENKŐ Imre ● BORSAY Márti ● BURGER Barna ● BÓCSI Krisztián ● CADOR Rida ● CSORTOS SZABÓ Sándor ● CSOSZÓ Gabriella ● DEZSŐ T. Tamás ● DOMOKOS Balázs ● DÓKA Béla ● ELEK Judit Katalin ● EMBER Sári ● EPERJESI Ágnes ● ERDEI Krisztina ● ERDŐS Gábor ● FÁTYOL Viola ● FEKETE András ● FEKETE Zsolt ● FELICIDES Ildikó ● FÉNER Tamás ● GÁLDI Vinkó Andrea ● GULYÁS Miklós ● GULYÁS Nándor ● GYENIS Tibor ● HANGAY Enikő ● HARTUNG Dávid ● HERMANN Gábor ● HERMANN Ildi ● HORVÁTH M. Judit ● HOSSALA Tamás ● ILLÉS Barna ● ÍV&CANDIE ● JUHÁSZ Orsolya ● KASZA Gábor ● KEMENESI Zsuzsanna ● KLOTZ Miklós ● KONCZ Zsuzsa ● KOVALOVSZKY Dániel ● KOVÁCS Claudia ● KOVÁCS Melinda ● KUDÁSZ Gábor Arion ● MARKOVICS Ferenc ● MAYER Bernadette ● MÁRTONFAI Dénes ● Monika MERVA ● MINYÓ SZERT Károly ● MISETICS Mátyás ● MOLNÁR Zoltán ● MÓRICZ Simon ● MOHÁCSI Ildi ● MUCSY Szilvia ● NAGY Zágon ● PORKOLÁB Zsófi ● PUKLUS Péter ● RÉV Marcell ● RÓNAI Dominik ● RÓNAI Domonkos ● SIMON Márk ● SIMONYI Balázs ● SIPOS Dániel ● SOPRONYI Gyula ● STALTER György ● SZABÓ Sarolta ● SZALONTAI Ábel ● SZAMI ● SZÁSZ Lilla ● SZÉMAN Richárd ● SZILÁGYI Fanni ● SZOMBAT Éva ● SZOMBATHY Bálint ● TASNÁDI László ● TAUSZ Gábor ● TÁBOROSI András ● TELEK Balázs ● TENGÖLICS László ● TÓTH József Füles ● TÓTH Szilvi ● VANCSÓ Zoltán ● VEDRES Ági
Hungarian House of Photography in Mai Manó House
H-1065 Budapest-Terézváros, Nagymezõ utca 20.
Telephone: 473-2666
Fax: 473-2662
E-mail: maimano@maimano.hu