Mai Manó Gallery and Bookshop is located on the mezzanine of Mai Manó House.
The bookshop also houses a photo gallery, thus allowing visitors to browse our various photography related books at will, whilst enjoying the specific atmosphere of the current exhibitions. Besides a wide supply of photography albums, photo-technique handbooks, magazines from home or abroad and the own publications of Mai Manó House, signed enlargements of photographers are also available.
Opening Hours:
Every weekdays: 14.00 – 19.00
Weekend: 11.00 – 19.00

Contact:
Phone: +36 1 473-2669
Fax: +36 1 473-2662
Our bookshop displays periodical exhibitions throughout the year, visiting is free of charge.
Current exhibition
in Mai Manó Gallery & Bookshop:
Momentary Script
Exhibited the works from the University Of Theatre And Film Arts (Budapest) first-year (freshman) cinematography majors (head teachers János Vecsernyés and Tibor Máthé) and fifth-year (senior) directing and cinematography majors Ildikó Enyedi and Tibor Máté.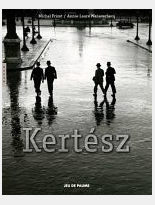 André Kertész (Editions Hazan)
André Kertész (1894-1985) is one of the most original and celebrated of photographers of the 20th century. He was a founder of the modernist photography that originated in the European avant-garde movements of the 1920s, and although his lifelong unwillingness to compromise his independence and his creation of photographic poetry made him an almost marginal figure for most of his life, his influence on the development of photography, particularly photojournalism, during the middle years of the century was profound. This comprehensive book accompanies a major retrospective exhibition of Kertész's work at Pariss Jeu de Paume Museum (also visiting several other European venues including Winterthur, Berlin, and Budapest). The text is organized around the three main periods of Kertészs seventy-year-long career: Budapest, 1914-25; Paris, 1925-36; and New York, 1936-85. Each section of the text includes an illustrated historical analysis, a portfolio of works, and notes on particular elements of Kertészs style and practice. Many rare vintage and period prints produced under the photographers control are reproduced to highest standards in this beautiful book, reflecting the visual quality of this exceptional body of compelling and poetic images.
Hardcover: 360 pages
Publisher: Editions Hazan, Paris; 16th edition (December 7, 2010)
Language: English
ISBN-10: 0300167814
ISBN-13: 978-0300167818
18.900- HUF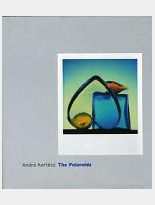 André Kertész: The Polaroids
After the death of his wife, Andre Kertész consoled himself by taking up a new camera, the Polaroid SX70. As with earlier equipment, he mastered the camera and he produced a provocative body of work that both honoured his wife and lifted him out of depression. Here Kertész dips into his reserves one last time, tapping new people, ideas and tools to generate a new body of work through which he transforms from a broken man into a youthful artist. Taken in his apartment just north of New York's Washington Square, many of these photographs were shot either from his window or in the windowsill. We see a fertile mind at work, combining personal objects into striking still lifes set against cityscape backgrounds, reflected and transformed in glass surfaces. Almost entirely unpublished work, these photographs are a testament to the genius of the photographer's eye as manifested in the simple Polaroid.
Hardcover: 128 pages
Publisher: W. W. Norton & Company (October 30, 2007)
Language: English
ISBN-10: 0393065642
ISBN-13: 978-0393065640
9.990,- HUF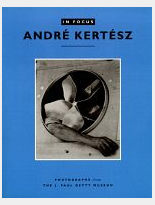 In Focus: Andre Kertesz: Photographs from the J. Paul Getty Museum
Hungarian-born Andre Kertesz (1894-1985) was one of the most influential and popular photographers of the twentieth century. This volume presents for the first time selections from the Getty Museum's holdings of Kertesz's photographs, including work from his Budapest, Paris, and New York periods. The book also offers an intimate look at Kertesz through a dialogue among four of the people who knew the artist best during the last years of his life: Robert Gurbo, Curator of New York's Andre and Elizabeth Kertesz Foundation; David Travis, Curator of Photography at the Art Institute; Sylvia Plachy, photographer; and the Getty's Curator of Photographs, Weston Naef. The discussion was moderated by Charles Hagen, writer and critic for the New York Times.
Paperback: 148 pages
Publisher: J. Paul Getty Museum; 1 edition (September 29, 1994)
Language: English
ISBN-10: 9780892362905
ISBN-13: 978-0892362905
3.900,- HUF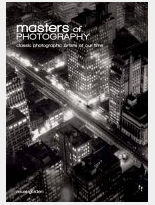 Masters of Photography: A Complete Guide to the Greatest Artists of the Photographic Age
"Masters of Photography" is an indispensable and comprehensive guide to over 70 of the world's best-known photographers, from the pioneers of the early part of the century to the experimental artists who will take us into the future. Arranged in alphabetical order by photographer, each entry contains a selection of sumptuous reproductions of some of the photographer's most interesting and representative works. In addition there is an incisive appreciation of each of these most well-known or groundbreaking artists, including the technical background to their pictures, and a key facts panel detailing biographical details and the development of each photographer's career.
Paperback: 256 pages
Publisher: Carlton Books Ltd (March 3, 2008)
Language: English
ISBN-10: 1844420043
ISBN-13: 978-1844420049
3.490, HUF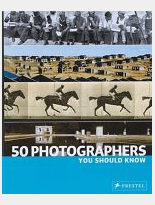 50 Photographers You Should Know
This dynamic introduction to the world's greatest photographers from the inceptiion of photography to today bears proof of the magic of the camera. From Felix Nadar to Nan Goldin, each of the photographers features here represents an important aspect of photography's evolution. The artists are presented in double-page spreads that include reproductions of their most important works, concise biographies, informative sidebars, and a timeline that extends throughout the volume. The result is a fascinating overview of the way photographers continue to push the limits of their genre, offering their audiences new ways of seeing and understanding our world.
Paperback: 176 pages
Publisher: Prestel USA (September 30, 2008)
Language: English
ISBN-10: 3791340182
ISBN-13: 978-3791340180
5.990,- HUF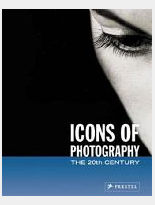 Icons of Photography: The 20th Century
From Library Journal
The third of Prestel's "Icon" series, which is devoted to gathering landmark work from a featured medium, this chronological assembly of 90 photographers, from Berenice Abbott to Heinrich Zille, offers a carefully gathered spectrum of photography in this century. Each artist is given a two-page spread, including a portrait shot and an example of a key image; there are 165 images in all, representing the artists' best and most challenging work. In the hands of these daring practitioners, photography looks like a tool of revelation, with imagination, mystery, and the range of human experience on display throughout. These captured instants framed, composed, labored over, and at times accidental create an important legacy that will be reviewed for a long time to come. They also reveal what parts of the 20th century have looked like. Recommended for the value of its content and its careful, consistent presentation of great photography. A David Bryant, New Canaan P.L., CT
Copyright 1999 Reed Business Information, Inc.
Paperback: 200 pages
Publisher: Prestel Publishing; 2nd edition (April 28, 2005)
Language: English
ISBN-10: 9783791333366
ISBN-13: 978-3791333366
5.990,- HUF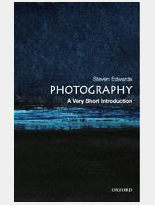 Photography: A Very Short Introduction (Very Short Introductions)
Photographs are an integral part of our daily lives, from sensationalist images in tabloid papers, to personal family snapshots, to the art photography displayed in galleries and sold through international art markets. In this thought-provoking exploration of the subject, Steve Edwards provides a clear, lively, and imaginative approach to the definition, importance, and meaning of photography. He combines a sense of its historical development with an analysis of its purpose and meaning within a wider cultural context. Edwards also discusses both well-known and more unusual photos, from the highly controversial Cottingley Fairies to Ansel Adams landscapes, and from the shocking and influential Eddie Adams image of a Vietcong suspect being executed to the portrait/performance art work of Cindy Sherman. Edwards interrogates the way we look and think about photographs, and considers such issues as truth and recording, objectivity and fine art, identity and memory.
Paperback: 176 pages
Publisher: Oxford University Press, USA (November 20, 2006)
Language: English
ISBN-10: 0192801643
ISBN-13: 978-0192801647
2.490,- HUF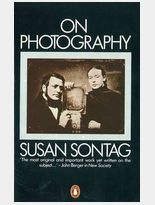 Susan Sontag: On Photography
First published in 1973, this is a study of the force of photographic images which are continually inserted between experience and reality. Sontag develops further the concept of 'transparency'. When anything can be photographed and photography has destroyed the boundaries and definitions of art, a viewer can approach a photograph freely with no expectations of discovering what it means. This collection of six lucid and invigorating essays, the most famous being "In Plato's Cave," make up a deep exploration of how the image has affected society.
Paperback: 224 pages
Publisher: Penguin Books Ltd (September 27, 1979)
Language: English
ISBN-10: 0140053972
ISBN-13: 978-0140053975
3.200,- HUF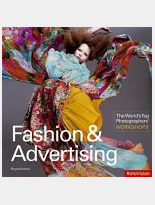 The World's Top Photographers Workshops: Fashion & Advertising
The World's Top Photographers' Workshops is a dynamic series that brings big-name professional photographers together in a roundtable-style format. These artists discuss and explore the fundamental technical aspects of photography: lighting, composition, color, tone, and imaging. Stunning images and in-depth interviews plus checklists and tips-and-hints panels make these books beautiful as well as practical. Fashion and Advertising, the first title, offers hardworking advice plus image portfolios combined with the photographers' comments on their influences and signature styles.
Hardcover: 176 pages
Publisher: Rotovision (August 1, 2007)
Language: English
ISBN-10: 294037824X
ISBN-13: 978-2940378241
9.990,- HUF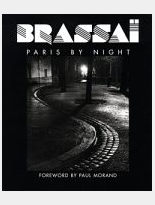 Brassaï: Paris by Night
One of the most important and influential photographers of the twentieth century, Brassaï (1899-1984) moved to Paris from Hungary in 1924. He is best known for artfully chronicling the city in the 1930s and for his classic portraits of such artists as Picasso, Matisse, and the Surrealists. Luminous photographs by Brassaï reveal the mysterious allure of nocturnal Paris in a new edition of this classic volume. Beautifully presented, Paris by Night is a stunning portrait of nighttime in the City of Light, as captured by its most articulate observer.
Hardcover: 96 pages
Publisher: Bulfinch; First Edition edition (May 1, 2001)
Language: English
ISBN-10: 0821227386
ISBN-13: 978-0821227381
12.500,- HUF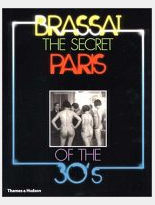 Brassaï: The Secret Paris of the '30s
Alone, or in the company of friends, Brassaï discovered and recorded the forbidden Paris of the 1930s, its brothels, whores, pimps, opium dens, and transvestite cafés—the sordid yet fascinating bas-monde where high society mingled with the underworld. The Secret Paris of the '30s is one of the most remarkable photographic memoirs ever published: like his predecessor Toulouse-Lautrec, Brassaï chose to portray a hidden and daring subject matter. His photographs reveal a milieu previously known only through books such as the novels of Henry Miller (a frequent companion of Brassaï's nocturnal rambles), the seamy, grimy, yet infinitely exciting reality that tourists still think of when they seek "Paris by night." These unique pictures are accompanied by an immensely interesting text in which Brassaï reminisces and describes the extraordinary conditions under which he took his photographs. 150 b/w photographs.
Paperback: 192 pages
Publisher: Thames & Hudson (March 2001)
Language: English
ISBN-10: 0500271089
ISBN-13: 978-0500271087
9.990,- HUF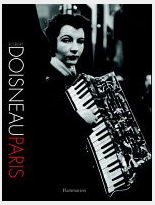 Robert Doisneau: Paris
Doisneau's work immortalized the magic of Paris for posterity; this stunning compact edition, edited by the artist's daughters, includes over six hundred photographs. Doisneau is celebrated for his ability to infuse images of daily life with poetic nuances that have brought enduring popular appeal to his photojournalism. This collection pairs aesthetically-composed photographs alongside snapshots that offer a more personal account of Doisneau's Paris. Organized thematically, this book—unprecedented in scope—gives an entrancing tour through the gardens of Paris, along the Seine, and amid the crowds of Parisians who live in and define their bewitching city. "An enchanting cross-section of Parisian life by one of the photographers who best captured its many charms." —The New York Times, 2005
Paperback: 400 pages
Publisher: Flammarion; Compact edition (October 26, 2010)
Language: English
ISBN-10: 9782080301178
ISBN-13: 978-2080301178
7.490,- HUF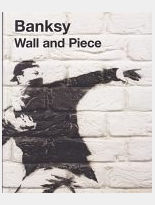 Banksy: Wall and Piece
Artistic genius, political activist, painter and decorator, mythic legend or notorious graffiti artist? The work of Banksy is unmistakable, except maybe when it's squatting in the Tate or New York's Metropolitan Museum. Banksy is responsible for decorating the streets, walls, bridges and zoos of towns and cites throughout the world. Witty and subversive, his stencils show monkeys with weapons of mass destruction, policeman with smiley faces, rats with drills and umbrellas. If you look hard enough, you'll find your own. His statements, incitements, ironies and epigrams are by turns intelligent and cheeky comments on everything from the monarchy and capitalism to the war in Iraq and farm animals. His identity remains unknown, but his work is prolific. Here's the best of his work in a fully illustrated colour volume - including brand material.
Paperback: 192 pages
Publisher: Random House UK (April 1, 2007)
Language: English
ISBN-10: 9781844137879
ISBN-13: 978-1844137879
4.500,- HUF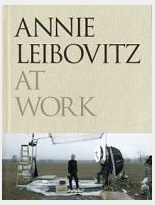 Annie Leibovitz: At work
The celebrated photographer Annie Leibovitz, author of the New York Times bestselling book A Photographer's Life, provides the stories, and technical description, of how some of her most famous images came to be. Starting in 1974, with her coverage of Nixon's resignation, and culminating with her controversial portraits of Queen Elizabeth II early in 2007, Leibovitz explains what professional photographers do and how they do it. The photographer in this instance is the most highly paid and prolific person in the business. Approximately 90 images are discussed in detail -- the circumstances under which they were taken, with specific technical information (what camera, what settings, what lighting, where the images appeared). The Rolling Stones' tour in 1975, the famous nude session with John Lennon and Yoko Ono hours before Lennon was killed, the American Express and Gap campaigns, Whoopi Goldberg in a bathtub of milk, Demi Moore pregnant and naked on the cover of Vanity Fair, and coverage of the couture collections in Paris with Puff Daddy and Kate Moss are among the subjects of this original and informative work.
Hardcover: 240 pages
Publisher: Jonathan Cape; 1st ed edition (2008)
Language: English
ISBN-10: 0224087576
ISBN-13: 978-0224087575
7.500,- HUF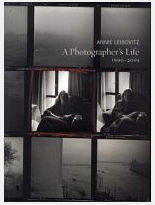 Annie Leibovitz: A Photographer's Life: 1990-2005
"I don't have two lives," Annie Leibovitz writes in the Introduction to this collection of her work from 1990 to 2005. "This is one life, and the personal pictures and the assignment work are all part of it." Portraits of well-known figures–Johnny Cash, Nicole Kidman, Mikhail Baryshnikov, Keith Richards, Michael Jordan, Joan Didion, R2-D2, Patti Smith, Nelson Mandela, Jack Nicholson, and William Burroughs–appear alongside pictures of Leibovitz's family and friends, reportage from the siege of Sarajevo in the early Nineties, and landscapes. The pictures form a narrative of a life rich in contrasts and continuities. The photographer has a long relationship that ends with illness and death. She chronicles the celebrations and heartbreaks of her large and robust family. She has children of her own. All the while, she is working, and the public work resonates with the themes of the life.
Paperback: 472 pages
Publisher: Random House Trade Paperbacks; Reprint edition (November 3, 2009)
Language: English
ISBN-10: 9780812979633
ISBN-13: 978-0812979633
9.990,- HUF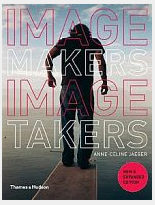 Image Makers, Image Takers: The Essential Guide to Photography by Those in the Know
This new and expanded edition of the hugely successful "Image Makers", "Image Takers" explores how celebrated contemporary photographers work, and how photo editors, agency directors, curators and art publishers pick that final image. In Part 1, twenty top photographers answer the questions every aspiring camera artist wants to ask, from creative inspiration and realizing concepts to perfect post-production. Part 2 presents the views of a selection of renowned editors and curators on how to spot and present the perfect image. Each of the 33 in-depth interviews features up to fifteen questions and answers, and is lavishly illustrated with the contributors work. Over 200 photographs make this a prime resource and a practical guide for artists, students, teachers, professionals and photography enthusiasts.
Paperback: 312 pages
Publisher: Thames & Hudson; Second Edition edition (October 31, 2010)
Language: English
ISBN-10: 0500288925
ISBN-13: 978-0500288924
7.490,- HUF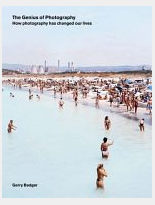 The Genius of Photography
Accompanying the first major television history of this ever more influential art form, this landmark book explores the key events and the key images that have marked the development of photography. At the heart of the book is a quest to understand what makes a truly great photograph. What is it that makes a photograph by Nan Goldin or Henri Cartier-Bresson stand out among the millions of others taken by all of us every single day? Why are some photographs elevated to the status of art - even after the event? "The Story of Photography" examines the evolution of photography in its wider context: social, political, economic, technological and artistic. It brings a critical perspective and a strong aesthetic sense to the subject, but above all it is primarily a narrative history. The book examines all the different genres of photography from art, news and reportage, landscape and portrait photography.
Hardcover: 256 pages
Publisher: Quadrille Publishing Ltd (September 7, 2007)
Language: English
ISBN-10: 1844003639
ISBN-13: 978-1844003631
8.490,- HUF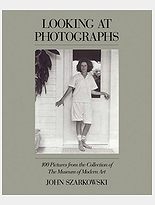 Looking at Photographs: 100 Pictures from the Collection of The Museum of Modern Art
Originally published in 1973, this marvelous collection of photographs with accompanying texts by the revered late Museum of Modern Art photography curator John Szarkowski has long been recognized as a classic. Reissued in 1999-with new digital duotones-this volume is now available to a new generation of readers.
"This is a picture book, and its first purpose is to provide the material for simple delectation," says Szarkowski in his introduction to this first survey of The Museum of Modern Art's photography collection. A visually splendid album, the book is both a treasury of remarkable photographs and a lively introduction to the aesthetics and the historical development of photography.
Among the outstanding figures represented here are Hill and Adamson, Cameron, O'Sullivan, Atget, Stieglitz, Steichen, Strand, Weston, Kertesz, Evans, Cartier-Bresson, Lange, Brassai, Ansel Adams, Shomei Tomatsu, Frank, Arbus and Friedlander.
Paperback: 216 pages
Publisher: The Museum of Modern Art, New York (September 1, 1976)
Language: English
ISBN-10: 0870705156
ISBN-13: 978-0870705151
9.990,- HUF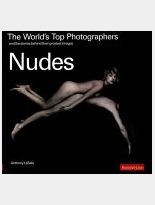 The World's Top Photographers: Nudes
For anyone who admires the human form, The World's Top Photographers: Nudes presents a stunning collection of photography. The naked body is perhaps the most popular subject in the history of photography. This book features the work of such eminent practitioners as Bob Carlos Clarke, Bettina Rheims, Ralph Gibson, David Penprase and Kenro Izu, alongside their personal anecdotes and professional tips and secrets. Nudes will appeal both to the professional and to the amateur photographer who wishes to learn from the best in the field, to celebrity buffs and glossy coffee table literature collectors, as well as to the many satisfied readers of the previous three titles in the series, Wildlife, Landscape and Portraits.
Hardcover: 176 pages
Publisher: Rotovision (October 1, 2005)
Language: English
ISBN-10: 288046823X
ISBN-13: 978-2880468231
9.990,- HUF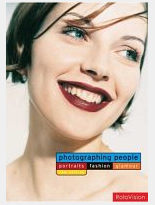 Photographing People: Portraits, Fashion, Glamour
The phenomenally successful "Photographing People" owed its success to its inspiring and comprehensive showcase of professional lighting techniques featuring exciting and innovative work from photographers around the world. Now available in a revised and updated paperback edition, it covers the genres of portraits, fashion and glamour photography with depth and clarity. Although a vast range and diversity of work is on display, the key element in each shot is the lighting. For every featured photograph, the lighting setup is illustrated by helpful 3D diagrams, along with expert explanations and advice on potential problems that might arise, alongside suggested solutions.
Paperback: 256 pages
Publisher: Rotovision; Revised edition 2006 by Steve Luck edition (August 30, 2006)
Language: English
ISBN-10: 294037807X
ISBN-13: 978-2940378074
7.900,- HUF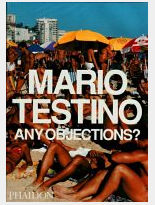 Mario Testino: Any Objections?
Fashion photographer Mario Testino takes pictures of what he sees--and what he sees most is models. His color-drenched fashion work is well known to readers of magazines like Vogue. He has a particular knack for catching famous posers off guard--Naomi Campbell looking over her shoulder as her exceedingly low-cut dress is zipped up her back(side); Carla Bruni, backstage at Dior, fully made-up and fully unclothed, shielding herself from Testino's spotlight. Madonna, perhaps his most famous celebrity muse, dancing offstage with her brother. All of these images are vibrant and compelling. But Testino's strength as a photographer is truly revealed when he puts his lens to less glossy images: a man's torso, crisscrossed with sheet marks; a stark black-and-white dual portrait of two young Muscovites; goldfish swarming in a plant-filled tank; a crowded, bronzed South American beach.
Paperback: 146 pages
Publisher: Phaidon Press (September 1999)
Language: English
ISBN-10: 0714838845
ISBN-13: 978-0714838847
7.900,- HUF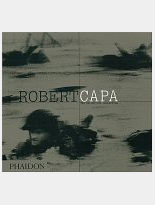 Robert Capa: The Definitive Collection
Robert Capa (1913–1954), one of the greatest photographers of the twentieth century and a founding member of the Magnum photographic agency, had the mind of a passionate and committed journalist and the eye of an artist. His lifework, consisting of more than 70,000 negative frames, constitutes an unparalleled documentation of a crucial twenty-two-year period (1932–1954) encompassing some of the most catastrophic and dramatic events of the last century. This book represents the most definitive selection of Robert Capa's work ever published, a collection of 937 photographs selected by Capa's brother, Cornell Capa (himself a noted LIFE photographer), and his biographer, Richard Whelan, who meticulously re-examined all of Robert Capa's contact sheets to compile this master set of images.
Paperback: 572 pages
Publisher: Phaidon Press (November 1, 2004)
Language: English
ISBN-10: 9780714844497
ISBN-13: 978-0714844497
12.900,- HUF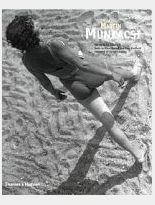 Martin Munkacsi
Martin Munkacsi (1896-1963) was the star photographer of his time. He photographed scores of famous actors, freed fashion photography from the confines of the studio, and set the static medium of photography in motion. Munkacsi's images have been brought together to combine pictures from all his artistic phases, and several photographs and bodies of work that have not been seen since their initial magazine publication. Munkacsi's work reveals a tense, technology-obsessed, glamorous and contradictory epoch.
Hardcover: 416 pages
Publisher: Thames & Hudson Ltd (November 2006)
Language: English
ISBN-10: 0500543305
ISBN-13: 978-0500543306
16.900,- HUF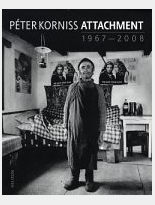 Péter Korniss: Attachment 1967-2008
In his book Attachment 1967-2008, Korniss recorded for more than forty years the disappearing peasant way of life and culture. He focuses on the village folk, industrial workers, children and the elderly of Hungary and Transylvania, and through his eyes, we become fond of these people and their culture. "To preserve a way of life that will soon disappear! As a photographer I couldn't have found a better task for myself. The gift of photography is that we can preserve even the most ephemeral subject: man-in the world he created and in which he lives."
Beginning in 1967, Korniss noted that "in the dim light of a 'dance house' in Szek, it was as if nothing had changed here in this tiny Transylvanian village for a hundred years." Yet, by the beginning of the 1990s, "... after the political landslide in East Europe, the life of the old, familiar villages began to change before my eyes. The changes came swiftly and were eye-catching. The symbols of distant worlds arrived in peasant homes."
Hardcover: 284 pages
Publisher: Published in Hungary by Helikon Publishing Ho (February 2010)
Language: English
ISBN-10: 963227167X
ISBN-13: 978-9632271675
9.990,- HUF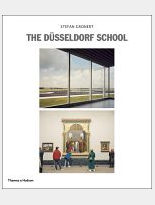 The Dusseldorf School of Photography
The Dusseldorf School is renowned around the world, and is today synonymous with high artistic standards and a highly diverse and new approach to the medium of photography. There has been no other art movement since the Bauhaus to possess such a worldwide appeal. This volume traces its ascendancy from the mid-1970s, when husband and wife team Bernd and Hilla Becher gave art photography an institutional roof. Filled with superb reproductions of the artists' best-known pictures, this impeccably bound and printed book offers the first encyclopaedic overview of this important movement.
Hardcover: 240 pages
Publisher: Thames & Hudson Ltd (November 2, 2009)
ISBN-10: 0500543569
ISBN-13: 978-0500543566
21.900,- HUF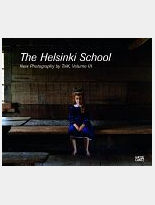 Helsinki School:
Young Photography by
Taik v. 3
"Do we need a fresh wind? Then hold on, here it is. Actually, a literal storm of images is blowing our way from Finland." So said the German Press Agency in regards to Hatje Cantz's Helsinki School series, which collects work by some of the most innovative young photographers in practice today--all newly emerging graduates of the influential University of Art and Design in Helsinki, a school that teaches its students not only how to think about photography, but how to use the camera as a conceptual tool. While some of the original members of the Helsinki School have already gone on to international acclaim--Ola Kolehmainen, Janne Lehtinen, Jyrki Parantainen and Elina Brotherus, among them--this third volume in the series introduces 30 new and exciting names.
Hardcover: 192 pages
Publisher: Hatje Cantz (November 30, 2009)
Language: English
ISBN-10: 3775724044
ISBN-13: 978-3775724043
13.990,- HUF
Opening Hours:
Every weekdays: 14.00 – 19.00
Weekend: 11.00 – 19.00

Mai Manó Book Shop
H-1065 Budapest-Terézváros, Nagymezõ utca 20.
Telephone: 473-2669
Fax: 473-2662
E-mail: bookshop@maimano.hu
Hungarian House of Photography in Mai Manó House
H-1065 Budapest-Terézváros, Nagymezõ utca 20.
Telephone: 473-2666
Fax: 473-2662
E-mail: maimano@maimano.hu